Chameleon Tracking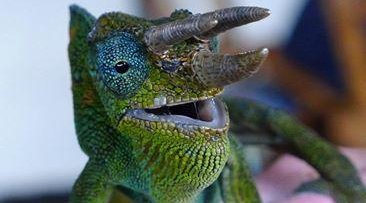 This is a three horned Jackson's chameleon tracking experience. This type of chameleon lives at an altitude starting from 1700 metres above the sea level. The tracking is normally done near our lodge between 1800 meters above the sea level to 2022 meters above the sea level where our lodge is located.
This is a rare species of chameleon and its endangered and is found around the Bwindi Impenetrable forest National Park a world heritage site sharing the same ecological setup with gorillas. It is unique from other chameleons due to the fact that it lives for 17 to 18 years on a free range, the female gives birth to live offsprings unlike other chameleons where a female has to have eggs and once they are mature it bursts for offsprings to be born. Its not poisonous and friendly.
They are on a free range so you get the opportunity to search your self though you will be with the guide and it is guaranteed that you see them because we have conserved many of them. The trial has a lot of nature scenic views and during the tracking you encounter different tree shrubs of which the guide furnishes you with the information on their uses in respect to traditional and current uses.